4 February 2017

Kohl's sent me a $10 coupon for my birthday, so I spent a couple hours wandering around the store this afternoon. I'm trying to be careful with my budget, so I only wanted to buy clothing if it was really great. And I didn't buy anything! Go me! Of course, it helps a lot that February is really, really dead for retail. Pretty much all that's there is the dregs of the fall/winter collections, and a tiny bit of early spring/summer stuff. I found some things I was interested in, but not thrilled enough to justify.

But I didn't go home with the gift card. I got a nonstick ceramic frying pan: white inside, with a lavender outside. Seriously, lavender? It was really hard to resist! And it was on very good clearance, so I paid less than $2 in actuality.

It's a single 10" skillet, but there's also a full set. I love sets so that's sort of tempting... but seriously, I have plenty of other pans.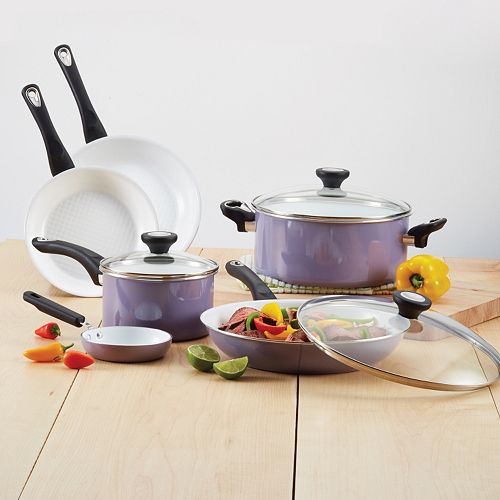 I have worn out several medium-sized frying pans so this one was a need, but for other pieces I've actually been accumulating Anolon Bronze. Bed, Bath, and Beyond carries a number of single pieces, which occasionally go on sale, so it's not too much of a splurge. The 4.5 quart stockpot is a terrific size for my soups and stews, since it's smaller and easier to handle than the regular-size dutch oven I have. The 12" ultimate pan is also super for all kinds of frying and cooking; the surface is bigger than the stockpot, but it's not simply a huge, shallow frying pan. Plus it has a lid, which my big (hand-me-down) frying pans do not have.

I'm definitely a dabbler in cooking. I find it fun to dabble and expand my knowledge bit by bit, at my own pace. :)