I put this in a comment earlier, but it's worth documenting in an entry.
The dress I'm inspired by is this one at the Met: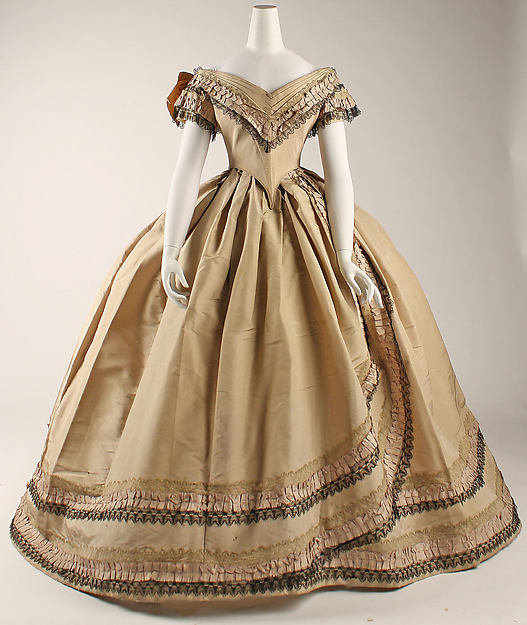 British, silk, 1860-64, C.I.37.46.7a, b
I really like the amount and style of trim on this one. Unlike a lot of my CoCo stuff, this one will be geared for appropriateness at good reenactor balls. That means it would not be appropriate to copy Princess Alexandra's white dress! (Yet. I still want to. Why must white silk be so expensive?)
Anyway, this example has very clean lines with enough detail to not be rigid, and does not rely on un-obtainable trimmings or hideously expensive materials. Essentially it's a doubled row of layered trim: box-pleated pinked material, bordered on each side by white and black blonde. (Blonde is silk lace, and ordinary "blonde" was actually slightly off-white, the natural silk color.)
I don't do ivory, beige, tan, or brown, so I'm thinking of the slipper pink Kaufman Radiance silk/cotton satin. I haven't used it before, but

reine_de_coudre
has, so it sounds fun to try.

That should be a similar-enough "weight" of tone to have the right contrast with both the black and blonde lace.

The box-pleated trim looks like a coordinating taffeta; it's not the same as the main dress fabric, though very close. I doubt I'll be able to find a silk match without going to L.A., so I'm thinking of a darker pink, maybe the pink of the sash I wear with the Romney dress. A rich rose color.

Lace will be fun to look for. Antique black chantilly net lace is readily available on ebay and Etsy. I figure I'll find something similar in a soft white after I source the black.

And it looks like there are shoulder bows, in another nearly-matching ribbon color. That can come later. :)